It's not actually  news that there will "be a border down the Irish Sea" if Boris Johnson's withdrawal agreement is passed. But if the document Jeremy Corbyn has been waving this morning is an authentic Treasury paper, it shows that Johnson is lying or at best or in denial.   He will surely be pressed to explain himself in tonight's BBC debate with Jeremy Corbyn.  Taken at face value it means Johnson will denounce his own withdrawal agreement as soon as the election is over. More likely, he will drop his denial and admit that he shafted the DUP. How touching it is to see Corbyn as the champion of Northern Ireland's interests! He must be pressed on how he would follow this up if Labour emerges the largest party in need of minority support.  How could the DUP fail to support Labour's idea of a withdrawal deal for a customs union and harmonised regulation?  Or will Johnson join the bidding and do the screeching U turn some are forecasting for after the election, particularly if the Conservatives win comfortably?
BBC Reality Check
This Treasury document sets out things that trade experts have been saying pretty clearly, but that the government has refused to accept.
The document notes that 98% of businesses that export to Great Britain are small and medium businesses that are "likely to struggle" to bear the cost.
None of this is a huge surprise to anyone committed enough to have read the Protocol on Ireland and Northern Ireland carefully, but it is not what the prime minister has been saying about his own deal.
Another striking line from the leaked document says the Withdrawal Agreement "has the potential to separate Northern Ireland in practice from whole swathes of the UK's internal market".
That is why, in a nutshell, Boris Johnson lost the support of the Democratic .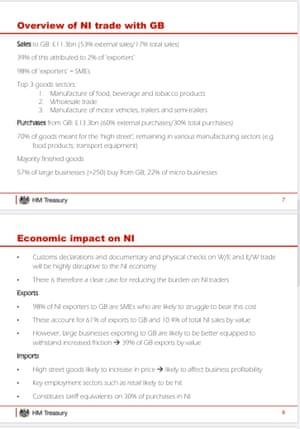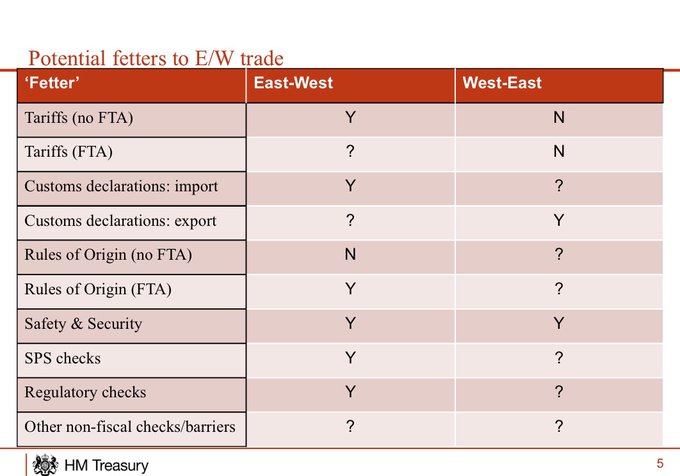 Later..
Can the credibility gap be closed?
There is the reference in the revised protocol   to "Unfettered access" which Johnson leans on heavily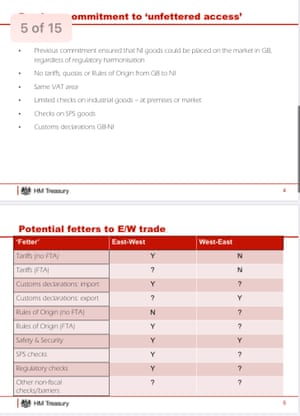 Sky News thinks  this could be "the most significant leaked document of the campaign
Their dep pol ed Sam Coates  writes :
Boris Johnson has this lunchtime rejected the claims contained in a new leaked Treasury analysis of the impact on Northern Ireland of his new Brexit deal.
In characteristic Mr Johnson style, he also admitted he hasn't read it.
Notwithstanding those two things, the new leak of an internal government presentation from Labour may be the most significant document to enter the public domain during this campaign, and perhaps the most important leak since "Yellowhammer" no deal planning documents – even if it does not change a single result in next week's election.
The most controversial element of the prime minister's revised Brexit deal, struck in mid-October, relates to Northern Ireland. This leaves Ulster tied closer to the rest of the European Union than the rest of the United Kingdom.
However, the exact nature of those ties – and the consequences both for citizens and businesses in Northern Ireland that flow from them – have been shrouded in mystery and confusion.
The uncertainty revolves around two big questions. Firstly, does the deal weaken the bonds of the United Kingdom in such a way that could fracture the union. Secondly, does the revised Brexit deal have negative economic consequences for Northern Ireland.
Today a new leaked Treasury analysis suggests that the civil service answer to both of those questions is – unambiguously – yes
Johnson in his own words ( some of them anyway).
I haven't seen the document you're referring to but that's complete nonsense, and what I can tell you is that with the deal that we have we can come out as one whole UK.
He said voters should believe him when he says there will be no checks on goods going between Great Britain and Northern Ireland.
"They should believe exactly what I say, which is that there will be no goods going from Great Britain to Northern Ireland or from Northern Ireland to Great Britain because we are going to come out of the EU whole and entire, and that was the objective that we secured."
The inevitable  government gloss from Guardian Live  
A senior government source said the document produced by Labour about the impact of Boris Johnson's Brexit deal on trade with Northern Ireland "initial appraisal" compiled by junior civil servants that it had not been signed off at a senior level.
The Conservative party said the document had been produced immediately after Johnson's deal was struck and was not written or used for decision making purposes.They pointed to a number of question marks in the document, which they said showed it was an incomplete analysis. They added that the deal was fully compliant with the Belfast/Good Friday Agreement.
Peter Foster Europe editor of the D Telegraph tweets
The document blows a hole in the idea that  "Get #Brexit Done" and that his Northern Ireland only 'frontstop' has put the Irish issue t bed. It SO hasn't. That story is only just beginning. Here's why..
What this is is a Treasury LOBBY document against unfettered access…it plays on the RISKS and makes clear (per this table) that the 'unfettered' part is far from a done deal
The question is whether or not the GB side would enforce those checks…Boris Johnson  hints not ..but this document shows very clear clear that HM Treasury is NOT on board..
It may be that if he gets majority ( Johnson) will over-rule… But to be clear, there is everything to play for here..  Because if Treasury gets its way, that 'hard border' in the Irish Sea will cut both ways. Big question: will this be sorted in the Withdrawal Agreement Bill when it comes back, if Johnson wins? If not, will Whitehall's utter indifference to NI lead to a hard border?
BBC NI  Economics corr John Campbell tweets  the main issues of the new frontstop  (Memo to BBC digital managers over  insipid BBC News Online – why hasn't he carried this detail on the BBC website?)  
The PM saying again that the only Irish Sea checks would be on GB exports to the Republic of Ireland going via Northern Ireland. This is categorically not true unless we end up with a much softer Brexit than the one which is currently being promoted..
The deal means that NI will remain part of a 'single regulatory zone' with the Republic of Ireland, a zone that will apply EU rules. The EU has particularly strict rules on the importation of "products of animal origin" -meat, fish and dairy products.. .. Those products must enter the EU through a border inspection post where all shipments are subject to document checks and a high proportion are physically checked… Products of animal origin from Great Britain entering Northern Ireland would be subject to these checks WHETHER THEY ARE DESTINED FOR NI OR THE REPUBLIC.
A few countries, such as New Zealand, have a deal with the EU where only 1% of consignments are checked. It is possible that the UK could negotiate a similar deal but it would not be able to eliminate checks entirely unless the whole of the UK was going to stay in the Single Market
There is a second issue to do with tariffs. Goods which enter NI from GB and which are to be consumed in NI will not have tariffs charged. But some classes of goods which are deemed 'at risk' of being moved onward to the Republic or the wider EU could be subject to tariffs… f those goods are shown to have been consumed in Northern Ireland then the tariff can be rebated. The definition of 'at risk' and the rebate system will have to be negotiated during the post-Brexit transition period. If there is a zero tariff UK-EU deal the tariff issue is largely addressed. But there will still have to be customs declarations on GB to NI trade. Some (small) proportion of that trade would also have to be subject to checks.
If Johnson has any mitigation in his mind at all, this no doubt is part of his get out of jail card. Does he realise it implies a soft Brexit and little divergence from EU trade terms – the opposite of  the flexibility he says he wants?
Former BBC journalist and manager in Belfast, Manchester and London, Editor Spolight; Political Editor BBC NI; Current Affairs Commissioning editor BBC Radio 4; Editor Political and Parliamentary Programmes, BBC Westminster; former London Editor Belfast Telegraph. Hon Senior Research Fellow, The Constitution Unit, Univ Coll. London