We have arrived at one of those moments when something that's agonising lots of clever people for  years has a basic flaw which people caught up in controversy have been more or less  blind to.  Corbyn's fence sitting has been well and truly exposed as absurd.  Why should the EU offer Labour a Brexit deal if most of its members want to campaign against it?  But if they somehow succeed, how could the leadership stay neutral on the deal they've painstakingly negotiated?
This is just one of the controversies tearing Labour apart as I type. But now the master of detail Katy Hayward has skewered the official Labour position on a referendum by pointing out in Twitter an even more basic flaw.
The terms of a proposed Labour referendum insofar as we know them are illogical and basically unworkable.
Voting Remain is clear enough ; but voting for an exit deal is not the final settlement. This imbalance in the choice offered opens up a vista of another referendum when a final settlement is negotiated.
There cannot be a #Referendum with a choice of Remain v. A UK-EU Agreement. Details of an Agreement can't be negotiated until UK leaves. Basically, a Referendum choice could either be:
Remain/Leave or, years after #Brexit:
A negotiated Agreement/None
Labour's 'leave deal' would be in the Political Declaration. It would be wrong to present it as a done 'deal', then, as it is aspirational not binding. Could easily be thwarted by change of govt/priorities & by the realities of tough choices of negotiations with EU & others.
This is currently  Labour's "deal"
.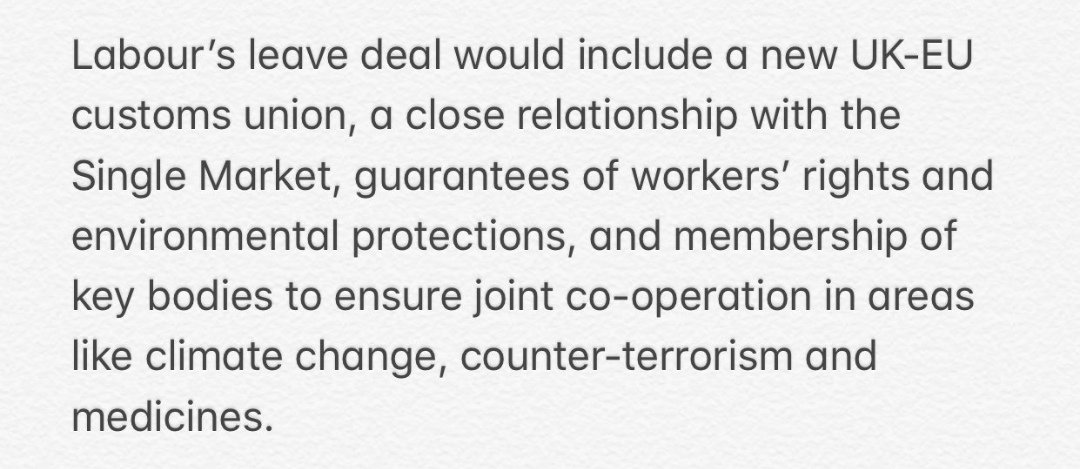 In the Daily Telegraph Katy Hayward has also written a lay person's analysis of the "alternative arrangements" proposal  at the heart of the still- to –be- unveiled Johnson plan. It's  based on her technical analysis of border requirements for UK in a Changing Europe
Extracts.
… The only alternative arrangements that could possibly have the same effect are those that somehow leverage an exemption from those rules that would otherwise require checks and controls. Special economic zones, the invocation of the GATT security clause, waivers for small enterprises – all such initiatives basically seek to ignore the fact that different rules will apply post-Brexit between the UK and EU. In this case, the biggest challenge will be that of retaining the confidence of both consumers/customers and external trading partners if it becomes known that Northern Ireland is the place where, effectively, a blessing is given to breaches of the rules….
More substantial proposals when it comes to alternative arrangements rest on the principle of knowing what is crossing the border…. Any alternative arrangements relying primarily on advance cargo information will require a level of data sharing and analysis that is currently not known anywhere in the world when it comes to crossing a land border..
…we come to the last pillar of border management: prevention of entry. This is always most difficult on a land border (compared to an air or maritime port). Add to this the need to avoid physical barriers on the Irish border, and the application of this principle becomes all the more challenging. The further away from the border these inspections or interventions take place, the less effective and the more intrusive border management seems. .
The British government appear to be disputing this – although when Juncker made similar points to Johnson last week, it was reported that they seemed to come as news to him and " he slumped in his seat…."
…. the biggest challenge lies closer to home. Any serious border management expert will tell you that no system of border management can work effectively without public buy-in. It is necessary to have willing compliance not only from traders but also it is essential to have an environment in which the management of the border is broadly supported. 
Any change to the requirements for crossing the border, or experience of doing so, will be viewed with immense caution. Ignoring the likelihood of this and determining just to push on through with a 'solution' regardless is not a strategy that will hold. In fact, not only would it increase the perception and resentment of the use of British blunt force in Northern Ireland, it would effectively undermine the viability of any solution. 
Whatever Boris Johnson pitches to Brussels, he should be aware that the biggest obstacle to finding workable alternative arrangements to the backstop doesn't lie in the EU but within the UK itself.
Katy Hayward is a Reader in Sociology at Queen's University Belfast and a Senior Fellow of the UK in a Changing Europe initiative, working full-time on the topic of Brexit and Northern Ireland/the Irish border.
. 
Former BBC journalist and manager in Belfast, Manchester and London, Editor Spolight; Political Editor BBC NI; Current Affairs Commissioning editor BBC Radio 4; Editor Political and Parliamentary Programmes, BBC Westminster; former London Editor Belfast Telegraph. Hon Senior Research Fellow, The Constitution Unit, Univ Coll. London