Blondes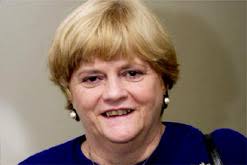 I watched Nuala O'Loan being interviewed last night, and I wondered what was so different about her?
Was she sterner? More authoritarian? Scarier?
None of those actually, she's blonder! Mrs O'Loan is a little like Miss Fitz: a traditionally built lady of a certain age. I guess when you get to this stage, its either Blue Rinse or the bottle of blonde comes out. Mind you, she's in esteemed company. Anne Widdecombe caused quite a sensation some time ago when she ditched her frumpy image and dyed her hair blonde. She also became quite a hands on agony aunt, traversing the country dispensing brisk and sensible advice.
Nuala looked like she could do with a shoulder to cry on yesterday. As many people had predicted, solving the past crimes of Northern Ireland isnt going to happen like it does on the television shows. In fact, the prospects of solving any of the cases seems like a real life Mission Impossible. Did the Historical Enquiries Team ever even have a realistic chance of solving of the Closed Cases?
"It's not realistic to think that we'll do it in six years, that we will re-investigate all those murders and deaths. It's just not realistic I think.
"I think that we're talking at least a decade, probably, to do all those cases, possibly more. I think that the historical enquiries team will have the same problem."
The Northern Ireland Office, which funds the initiative, would not be drawn on whether more resources would be made available.
It would appear that a very large sum of money is being spent to tell us what we suspected. Too much time has passed to realistically alter any of the outcomes of these unsloved cases, and the danger remains that expectations have been raised among the victims' relatives that will now be dashed once more.